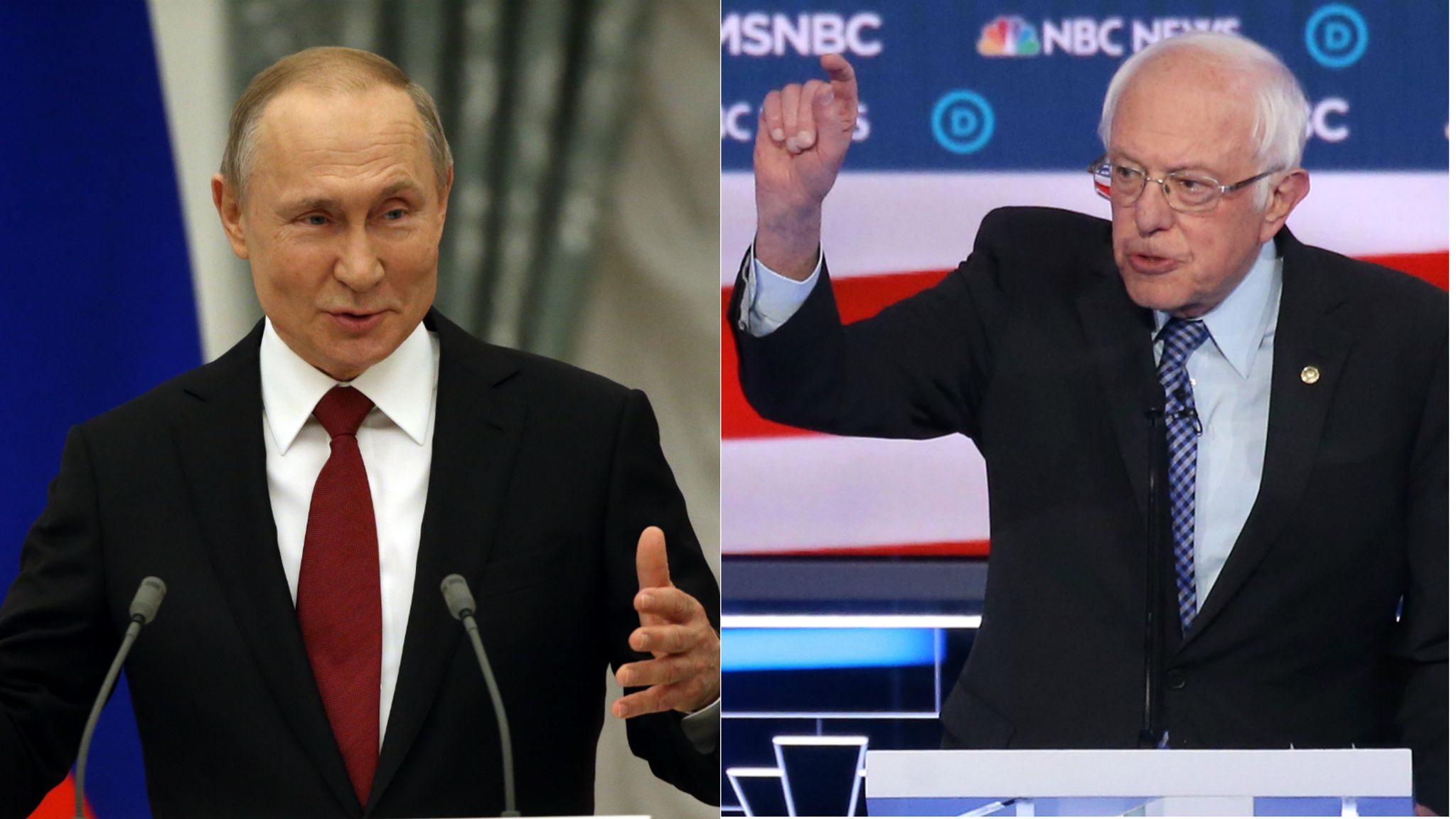 It has been documented that Russia interfered in the 2016 presidential election to aid Donald Trump - who since election has appeared to further Putin's agenda - and propped up third party candidates such as Jill Stein to siphon off support from Hillary Clinton. Now, Russia is at it again and is working to aid Trump's re-election and, for now to aid Bernie Sanders who Russia sees as the least electable of those seeking the Democrat nomination. Trump - who is lying if his lips are moving - disputes Russia's efforts, but the smart money is that the Russians are doing precisely what intelligence officials are alleging. One looming threat to knowing the truth is Trump's appointment of Trump ideologue Richard Grinell to the position of acting director of national intelligence where he will likely undermine or eliminate anyone not parroting Trump's preferred propaganda. Meanwhile, Democrat primary voters need to be mindful of who Russia is aiding and why. A piece in the
New York Times
looks at this latest Russian threat and Sanders' unconvincing disavowal of Russian efforts. Here are highlights:
Russia has been trying to intervene in the Democratic primaries to aid Senator Bernie Sanders, according to people familiar with the matter, and Mr. Sanders said on Friday that intelligence officials recently briefed him.

The disclosure came a day before the Nevada caucuses, where Mr. Sanders is a favorite, and followed revelations a day earlier that Moscow was interfering on President Trump's behalf this year, as it did in 2016.
"The intelligence community is telling us they are interfering in this campaign right now in 2020," Mr. Sanders separately told reporters in Bakersfield, Calif., where he held a rally on Friday. "And what I say to Mr. Putin: 'If elected president, trust me, you are not going to be interfering in American elections.'"
On Friday, [Trump] the president aggressively disputed that Russia was interfering on his behalf. He called the disclosures a hoax and part of a partisan campaign against him. At a campaign rally in Las Vegas, Mr. Trump suggested that Mr. Putin would prefer Mr. Sanders, "who honeymooned in Moscow."
Russia's interference on behalf of both Mr. Trump, the dominant force in the Republican Party, and Mr. Sanders, a stalwart of the left, underscores its efforts to sow chaos across the political spectrum. Undermining the democratic system remains at the core of Russia's effort to raise its own stature by weakening the United States, according to current and former officials.
Russia's interference measures and their intensity remain murky, even as intelligence officials sound alarms.
In briefings to House Intelligence Committee members last week and to Mr. Sanders, officials said that Russia was actively interfering in the campaign, and people at the House briefing said intelligence officials said that Russia had a preference for Mr. Trump.
Revelations about the House briefing enraged [Trump] the president, who complained that Democrats would use Moscow's support for him against him, people familiar with the matter said. Days later, he replaced the acting director of national intelligence, Joseph Maguire, though administration officials have said it was not a direct result of the briefing.
Richard Grenell, the American ambassador to Germany whom Mr. Trump appointed this week to replace Mr. Maguire, asked the agencies under his purview on Friday to provide the raw information and analysis that went into the briefing, people familiar with the matter said.
Mr. Grenell's appointment has drawn criticism from former intelligence officials who question his lack of experience and his record as a partisan ideologue. . . . . officials have hastened planned exits, as Mr. Grenell looks to install his own team.
[P]eople who heard the briefing said that the intelligence officers presenting the material said, in response to questions from lawmakers, that Russia was trying to get Mr. Trump re-elected.
[S]ome current and former officials expressed doubt that Russian officials think that Mr. Sanders has a hidden affinity for Moscow. Instead, they said that a Russian campaign to support Mr. Sanders might ultimately be aimed at aiding Mr. Trump. Moscow could potentially consider Mr. Sanders a weaker general election opponent for [Trump] the president than a more moderate Democratic nominee, according to two people familiar with the matter.
Russia also worked to support — or at least not harm — Mr. Sanders in 2016. Operatives at a Russian intelligence-backed troll factory were instructed to avoid attacking Mr. Sanders or Mr. Trump, according to the report by the special counsel, Robert S. Mueller III, and an indictment he secured of 13 Russians working on the operation.
Both the indictment and Mr. Mueller's report quoted internal documents from the Internet Research Agency ordering operatives to attack Hillary Clinton's campaign. "Use any opportunity to criticize Hillary and the rest except for Sanders and Trump — we support them," the document said.
Russian operatives used the troll factory in 2016 to pose on social media as Americans and sow divisions among already divisive issues like immigration, religion and race. It was one part of the Kremlin's multipronged attack on the election that also included hackings of Democratic emails, payments to unsuspecting Americans to stage pro-Trump rallies in battleground states and at least one scouting trip to the United States in 2014.
His [Sanders'] online army of supporters is both coveted by his rivals and a source of complaints because of what they say is abusive behavior online.
Sadly, I see Sanders' ego as out of control as Trump's and doubt that he or his most militant supporters will face the fact that they are playing right into Putin's agenda. Be very, very afraid of where this all ends.