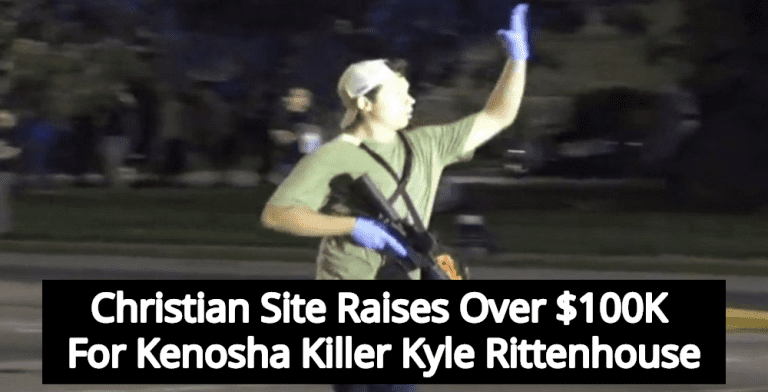 I have long viewed many right wing "Christian" organizations - e.g., Family Research Council - as racist if one but scratched the surface. Of course, the Southern Baptist Convention has documented racist roots since it arose to support the continuation of slavery so no scratching the surface is required. Now to further emphasize the moral depravity of the Christian far right, a "Christian" fundraising site is raising funds for the Kenosha shooter who killed two people and wounded a third after traveling across state lines with an assault weapon (what was a 17 year old doing with an assault rifle?). Incredibly, the site is claiming that the shooter was merely "defending himself" from "Antifa," conveniently leaving out how the shooter called a friend after shooting his first victim before going on to shoot two more people. Of course had he not injected himself into someone else's community, there would have been no need to "defend himself." The story line presented by the site is both a work of fiction and shows just how depraved evangelicals and Christofascists have become. Tellingly, the site GoFundMe had refused to allow fundraising for someone involved in racially motivated murder. A piece at
Patheos
looks at this disgusting site and situation. Here are excerpts:
Domestic Terrorism For Jesus: The Christian crowdfunding site GiveSendGo is hosting a fundraising drive for alleged domestic terrorist Kyle Rittenhouse after legitimate crowdfunding sites like GoFundMe refused to do so.
GiveSendGo, which self-identifies as the "fastest growing Christian Crowdfunding site made by Christians for Christians," has already raised over a $100,000 for the Kenosha killer Kyle Rittenhouse, the domestic terrorist charged with murder after killing two BLM protesters and wounding another.

The "Fundraising Story" for Rittenhouse reads:

Kyle Rittenhouse just defended himself from a brutal attack by multiple members of the far-leftist group ANTIFA – the experience was undoubtedly a brutal one, as he was forced to take two lives to defend his own.

Now, Kyle is being unfairly charged with murder 1, by a DA who seems determined only to capitalize on the political angle of the situation. The situation was clearly self-defense, and Kyle and his family will undoubtedly need money to pay for the legal fees.

Let's give back to someone who bravely tried to defend his community.

The comments on the site are even more obnoxious. For example:

May it be remembered in the annals of history that the first shots were fired by this young patriot as he was defending himself, and by extension our country, against a terrorist mob that the rest of the country up until this moment would not consider using fire power against. This young man's freedom will be secured before this war is over, if we have to burn the justice system that holds him to the ground.

Previously supporters of Rittenhouse tried to use the respected and trusted site GoFundMe to raise funds for the terrorist, but GoFundMe immediately removed any such effort. The Milwaukee Journal Sentinel reports:

GoFundMe spokesperson Angelique McNaughton said Thursday the platform removed the fundraisers because they violated GoFundMe's terms of service. McNaughton said the platform refunded all the donors.

GoFundMe forbids people from using the platform to raise money for "the implicit or explicit purpose of or involving for the legal defense of alleged crimes associated with hate, violence, harassment, bullying, discrimination, terrorism, or intolerance of any kind relating to race, ethnicity, national origin, religious affiliation, sexual orientation, sex, gender, gender identity, gender expression, serious disabilities or diseases, financial crimes or crimes of deception," according to the terms of service.
In short, GoFundMe is much more ethical than the Christian crowdfunding site GiveSendGo.
Needless to say, this whole affair reinforces my view that if one says they are an evangelical, the safest bet is that they are likely a racist and horrible person despite pretense to the contrary.